Bhagavad Gita AS IT IS
Chapter 17: The Divisions of Faith
TEXT 8-10
ayuh-sattva-balarogya-
sukha-priti-vivardhanah
rasyah snigdhah sthira hrdya
aharah sattvika-priyah
katv-amla-lavanaty-usna-
tiksna-ruksa-vidahinah
ahara rajasasyesta
duhkha-sokamaya-pradah
yata-yamam gata-rasam
puti paryusitam ca yat
ucchistam api camedhyam
bhojanam tamasa-priyam
SYNONYMS
ayuh—duration of life; sattva—existence; bala—strength; arogya—health; sukha—happiness; priti—and satisfaction; vivardhanah—increasing; rasyah—juicy; snigdhah—fatty; sthirah—enduring; hrdyah—pleasing to the heart; aharah—food; sattvika—to one in goodness; priyah—palatable.
TRANSLATION
Foods in the mode of goodness increase the duration of life, purify one's existence and give strength, health, happiness and satisfaction. Such nourishing foods are sweet, juicy, fattening and palatable. Foods that are too bitter, too sour, salty, pungent, dry and hot, are liked by people in the modes of passion. Such foods cause pain, distress, and disease. Food cooked more than three hours before being eaten, which is tasteless, stale, putrid, decomposed and unclean, is food liked by people in the mode of ignorance.
PURPORT
The purpose of food is to increase the duration of life, purify the mind and aid bodily strength. This is its only purpose. In the past, great authorities selected those foods that best aid health and increase life's duration, such as milk products, sugar, rice, wheat, fruits and vegetables. These foods are very dear to those in the mode of goodness. Some other foods, such as baked corn and molasses, while not very palatable in themselves, can be made pleasant when mixed with milk or other foods. They are then in the mode of goodness. All these foods are pure by nature. They are quite distinct from untouchable things like meat and liquor. Fatty foods, as mentioned in the eighth verse, have no connection with animal fat obtained by slaughter. Animal fat is available in the form of milk, which is the most wonderful of all foods. Milk, butter, cheese and similar products give animal fat in a form which rules out any need for the killing of innocent creatures. It is only through brute mentality that this killing goes on. The civilized method of obtaining needed fat is by milk. Slaughter is the way of subhumans. Protein is amply available through split peas, dhall, whole wheat, etc.
As highlighted in the previous article on the topic of the Yamas and Niyamas, the principle of Non-Violence (or Ahimsa) is a core value of the philosophy of Sanatana Dharma, and a guiding tenet in the lives of all practicing Dharmis.

This principle is primarily, but not exclusively, expressed through the dietary parameters adopted by the devotees of Sanatana Dharma. Non-violence is practiced by the strict observation of a lacto-vegetarian diet, a diet that excludes all meat, fish and eggs, but that includes dairy products, such as milk, cheese, ghee, yogurt, etc.

Vegetarianism has gained a great measure of popularity and acceptance in wider society throughout the world in recent years, for many reasons.

Medical data continually arises, linking meat-eating with a number of illnesses and ailments in life, such as cancer and heart disease. Contrary to popular belief, meat foods are not a necessary component of the human diet. In fact, evolutionarily and biologically, humans are not designed to be carnivores. Our teeth and intestinal structures are best suited for an herbivorous (vegetarian) diet.
The advent of technology and instant communication has allowed the wider propagation of leaks and footage from within the industrial slaughterhouses and medical/commercial testing facilities alike. Likewise, so too have the environmental impacts of wide scale livestock production for the sake of industrial distribution become more widely known, as well as the wasteful policies of the meat industry. Like humans, animals are sentient living beings, and have been proven to be capable of feeling pain and suffering. Animals, like humans, cry out if cut; they scream if killed; they mourn if separated from those they are attached to. Knowing this, then witnessing footage from behind the scenes of a slaughterhouse, is enough to turn any right persons stomach. As a result of that natural human capacity for empathy, many people have rejected the dietary inclusion of meat products solely in protest of those inhumane acts.

Economically, the global meat production industry has had damaging effects on the natural environment of the world, and the effects are far reaching. In order to sustain an ever growing demand for flesh, Central and South American rain forests are being decimated at the alarming rate of 2.5 acres per second, and growing. Much of this destruction is occurring in order to provide grazing land for beef cattle. Every burger we eat represents a tree mowed down in a rain forest, and by association the death of wild fauna, the destruction of natural habitats, the erosion of soils and damage of natural water tables. The latter especially, given that the the meat industry has been repeatedly cited as one of the major industries responsible for massive amounts of pollution, including the dumping of noxious wastes into the global water supply.
These, and many other considerations, make it astoundingly clear why the vegetarian lifestyle is an ethical alternative that is both reasonable and healthy for your body, mind and soul. Violent minds lead to violent lifestyles. In such a state of consciousness, it is impossible to make any serious advancement on the spiritual path, so for anyone inclined towards Sanatana Dharma, the adoption of a vegetarian lifestyle is an easy decision to make.
Mankind has long been aware of its seemingly God-given position of superiority over over animals within the hierarchy of being. Abrahamic and neo-pagan constructionist thinkers alike have long used such an argument as justification for the consumption of our so-called 'inferior' companions within this material existence. It is, however, important to consider that mans higher status does not automatically give us the right to kill other lifeforms simply for our selfish ends.

To rule does not give justification for abuse or mistreatment.


In fact, the rulers of men who come to view their people as chattel to be used, traded and discarded at a whim often end up losing their own heads in time. The mere position of superiority over another sentient being can never be interpreted as a license for abusing a less capable being, or a class of such beings. Superiority means responsibility, a duty of care, to those below.
If we argue that we as humans have the right to exploit so-called inferior lifeforms for the sake of the tongue, then it would be morally permissible for one human to enslave and victimize another, for the sake of base sense gratification. An intellectually or physically more powerful man could justifiably kill another, weaker man, solely at a whim or because his ego desires it. Physically weaker women and children would be at the mercy of stronger, aggressive men. Societies that permit such acts rarely last long, for tolerance of such philosophy only leads to mayhem and the decline of civilization.
This does not preclude the "ownership" or collaborative existence with animals that mankind has engaged in since time immemorial. To engage the services of those lesser lifeforms with which we share this planet, in turn rendering to them protection, sustenance and shelter, is not abuse. As a caring and protective parent engages a child in chores to keep them occupied, and to ease the burden of labour of the family, so to can we engage those non-human lifeforms who's companies we keep.

For example take the hound and the cow. The human relationship with both creatures has been around far longer than records go back. The hound has often aided man in endeavors such as tracking, protection and threat detection, and pest control. Humans in turn provided the animals shelter, company, consistent sustenance and other forms of protection.

As for the cow, the cow is the backbone of human civilization. Human agriculture, before the advent of modern petroleum fueled machinery, was only made possible on a wider scale thanks to the labour of the bull as much as as the labour of man. The bull would pull the plow, and the cart, and the cow would give up its milk, excess to the needs of the calf, for the sustenance of man.

The cow especially is revered within vedic culture for this reason. The human and the cow have a symbiotic nature unsurpassed by any other creature. Whilst this connection has for the most part been lost in the wake of the cold and impersonal form of modern agriculture, were society to collapse overnight and man forced to rebuild from the ruins, the men amongst the ruins would soon realize the value of the cow beyond their mere base desire for their flesh. That is one reason why Vedic culture places such reverence upon cows.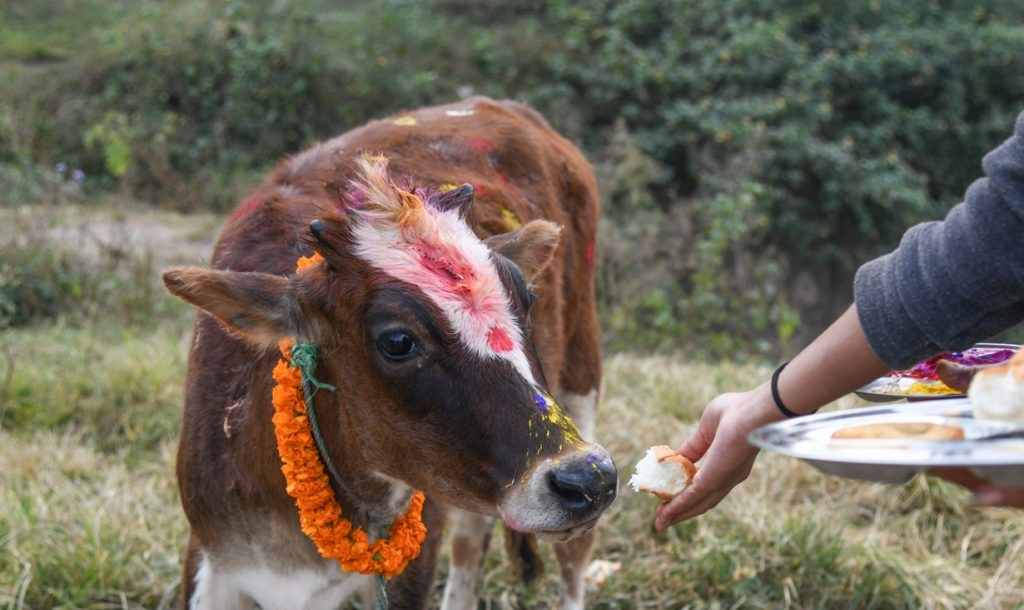 This reverence of cows, and understanding of the symbiotic relationship that man is capable of having with the lifeforms of the animal kingdom, is the reason why followers of Sanatana Dharma can and will partake in the consumption of dairy products such as milk and cheese. We do not promote or encourage veganism by any measure, though for some it may be the only option when faced with an unfortunate intolerant to dairy products. Excluding specific health reasons, the encouragement of veganism is not regarded as dharmic, and seen as detrimental to the human body and mind.

Linked below is a video by Sri Dharma Pravartaka Acharya on the subject of vegetarianism and its relationship to Sanatana Dharma, that goes much more in depth on the subject. A must watch.