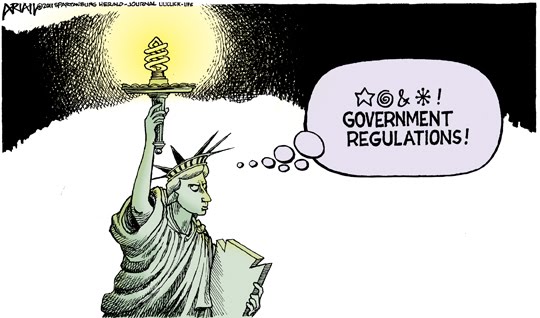 In America today, there is very little that you can actually do without getting some sort of a "license" or a "permit" first.
Do you want to leave your home?
You better get a license to drive first or find someone that does.
Do you want to start a business?
You better get ready for a very long relationship with licenses and permits.
Do you want to open a Hot Dog Stand?
A 13 year old boy up in Michigan has had his hot dog stand shut down because of a zoning violation. His parents actually thought that they had all the proper licensing.
Do you want to collect rainwater?
Could you imagine being sent to prison for collecting the rain that falls from the sky on your own property? A rural Oregon man was sentenced Wednesday to 30 days in jail and over $1,500 in fines because he had three reservoirs on his property to collect and use rainwater.
Care for a Smoke?
Santa Monica, California has decided to make it illegal to smoke inside your own home.
Want to take a drive with Fido?
In New Jersey, if you are driving around with an "unrestrained" cat or dog in your vehicle you can be fined up to $1000 for each offense.
How about a bake sale?
Hazelwood, Missouri it is actually illegal for little girls to sell girl scout cookies in the front yards of their own homes.
Don't let junior play with chalk.
In one Denver neighborhood, children have been banned from drawing on the sidewalk with colored chalk.
And forget that lemonade stand.
All over the United States, lemonade stands run by small children are being shut down by police because they do not have the "proper permits".
How about reading some religious scriptures?
Recently a man that was arrested for hosting a Bible study in his own home. It turns out that he is still in prison serving his 60 day prison sentence.
Are you growing a garden?
Denise Morrison in Tulsa, Oklahoma had her survival garden brutally ripped out and carted away by government thugs. She was relying on that garden to provide the things that she needed. But the government control freaks savagely ripped it all out and left her with nothing.
Does junior ever throw temper tantrums?
If so, your child may get arrested and sent to a mental institution if he or she throws a tantrum in front of the police. A 6-year-old girl down in Florida was "throwing objects, hitting administration personnel and screaming uncontrollably" so police handcuffed the 40 pound little girl and shipped her off to a mental institution for evaluation.
Don't pack plastic utensils with juniors lunch.
An 11-year-old kid down in Florida was actually arrested by police, thrown in jail and charged with a third-degree felony simply for bringing a plastic butter knife to school.
Better get your dose of Fluoride
In Massachusetts, all children in daycare centers are mandated by state law to brush their teeth after lunch. In fact, the state even provides the fluoride toothpaste for the children.
Blogging? Forget it in Philly
It is illegal to make even a single dollar from a blog unless you buy a $300 business license. The Philly government even went after one poor woman who had earned only $11 from her blog over the past two years.
Spare some water Buddy?
In Louisiana one church was recently ordered to stop giving out water because it did not have the "proper permit" to do so.