A Vedic Critique of Marxism
By Sri Dharma Pravartaka Acharya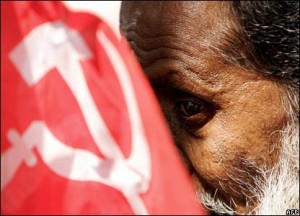 The following article is from chapter 3 of the groundbreaking new book "The Dharma Manifesto", by Sri Dharma Pravartaka Acharya. This paper represents the first seriously philosophical, Vedic critique of Marxism ever written in history. The book can be purchased at:
http://www.arktos.com/sri-dharma-pravartaka-acharya-the-dharma-manifesto.html
————————————————–
"If you can cut the people off from their history, then they can be easily persuaded."
– Karl Marx (1818-1883)
Marxism is arguably the most monstrously destructive and morally reprehensible worldview the world has ever known. The perpetual violence that has been instigated by Marxist movements, totalitarian Communist dictatorships, bloody guerrilla wars, and terrorist bloodshed has been responsible for more deaths and suffering during the twentieth century than any other rival ideology of that era, including National Socialism. Marxism has led to the destruction of cultures, the dehumanization and misery of large segments of the global population, and the degeneration of the human spirit. Marxism is an atheistic and materialistic philosophy that views human beings as purely mechanistic, characterless and utilitarian automatons. For Marxists, human persons are to be reduced, both philosophically and in practice, to nothing more than soulless and bland laborers, whose existence only has meaning in direct proportion to their degree of utility by, and enslavement to, the state.
Karl Marx (1818-1883) was a German citizen of Jewish descent who in his youth had been interested in the views of the German idealist philosopher and theologian Georg Wilhelm Friedrich Hegel (1770-1831). Though Hegel's philosophical system was theistic, and most of his followers at that time were themselves primarily religious individuals, Marx's introduction to Hegel's thought was via the Young Hegelians, a group dedicated to misusing Hegel's philosophical methods to undermine and eradicate religious thought itself, rather than uphold it. The two main leaders of the Young Hegelians were Ludwig Feuerbach (1804-1872) and Bruno Bauer (1809-1882).
Karl Marx had initially (pre-1844) subscribed to the Feuerbachian program of the critique of religion. While he continued to employ the notion of a philosophical anthropology – the attempt to discern the human meaning behind every experience – he went further than LudwigFeuerbach with his attempt to perform a critique of political economy. In the following section, we will briefly examine what led Marx to attempt such a critique, and talk about the ways in which political economy is thoroughly resistant to such a Marxist critique.
Fueurbach and the Young Hegelians felt that the very apex of both the philosophical and the theological enterprises had been achieved by Hegelianism and German Lutheranism, respectively. Thus, in their monumentally insular view, the end of the philosophic enterprise had suddenly commenced in their lifetime.[1] Now, the only project left was the creation of a philosophical anthropology – an attempt to show that all philosophical ideas were dependent upon what is essentially human in the purely biologically behavioral sense. Once a general account of humanity would be attained, so their belief went, then such an account could be applied to all things. The primary tool of this project was the use of the process of criticism, which would purportedly reveal the conditions for the very possibility of any object under observation.
The Young Hegelians, including Feuerbach and Marx, had applied this process of critique to the nature of the theology of the so-called Right Hegelians, who were primarily Lutheran theologians loyal to Hegel's theistic philosophical underpinnings. Feuerbach, specifically, felt that religion was merely an unreal projection of essential, alienated humanity. Furthermore, for Feuerbach, God was no more than the construction of human beings, and actually represented the conceptual personification of what were in actuality very human traits. By critiquing God and religion, Feuerbach thought, a greater knowledge of human beings could be attained. Marx would later fervently agree with this general premise.
While Feuerbach felt that there was at least a trans-historical human essence, however, Marx felt that such an idea was too much of a concession to the "metaphysical", and that man's essence was only ever revealed under real world, materialist conditions. Human beings, for Marx, are in essence, primordially, producers and makers. Work, for Marx, was both the raison d'être and essential attributive nature of the human person. Therefore, on Marx's account, self-actualization consisted in nothing more than having the freedom to perform meaningful work. Production, for Marx, was labor that is transformative towards creating a certain outcome, a praxis. Political economy was a body of theories formulated by the classical economists (such as Adam Smith) that sees human beings as essentially productive animals. Therefore, political economy – the realm of production and exchange – now became the central object of any Marxist critique.
The French Revolution supposedly succeeded in creating political emancipation, so Marx insisted, but state equality displaced inequality into the social sphere. In the social sphere, human beings were subject to an overwhelming sense of alienation. The proletariat (the working class) was separated from what they essentially are – biologically-determined producers unleashed to create, as an expression of their own essence. Political economy was thus seen as nothing more than the projection of our collective human praxis.  Instead of political economy serving human purposes, however, Marx felt that humanity was presently serving the needs of political economy. But the present political economy is nothing more than our own creation. Now a human revolution was needed. In order to begin this purportedly emancipatory process, Marx felt that the economic system of his time needed to be translated into a philosophical anthropology.
Marx's attempt to translate the critical program to political economy proved immediately problematic for three reasons. 1) While God is immaterial, economies are very material; 2) It was impossible at Marx's juncture in history to imagine a world without alienated labor; 3) Marx used Adam Smith as his primary economic theorist, though many of Smith's ideas no longer applied.
Thus, while Marx made the attempt to translate Fueurbach's failed critique of religion into a critique of political economy, such an application was itself a complete failure, to say the least.

The Failures of Marxism
"We are ruthless and ask no quarter from you. When our turn comes we shall not disguise our terrorism."[2] – Karl Marx
The failures of Marxism are legion and have been well documented for many decades by a wide variety of scholars, researchers, thinkers, economists and political scientists. Marxism eliminates all incentive for people to engage in any form of labor, whether intellectual, artistic or physical. By eliminating wages directly reflective of the value of individual instances of labor, people living under Marxist regimes are forced to work for a rationed amount of food and basic resources. Without a fair wage to work for, people naturally lose the motivation to work at all, thus leading to economic stagnation and a sense of hopelessness. We have seen such instances of economic failure in every Communist nation in history, and we are now beginning to see such economic breakdown occur in Europe and America as a direct result of the incremental introduction of crypto-Marxist economic policies.
A nation under the bondage of Marxism is destined to failure because such a state provides its people with no reason to strive for anything higher than being a personless atom in the social mass. With no distinctions, diversity, hierarchy, or classes to order the varying social strata of society in a sane and reasonable manner, a doctor will be paid the same wage as garbage collector, and a factory laborer has no hopes of ever earning a better life even if he acquired a Ph.D. All people are paid equally for work that requires unequal levels of skill, talent, education and personal natural propensity, so the person who aspires to be a doctor has no motivation to go to school for so many years of hard work only to be paid the same amount as someone who has not gone to school at all.
Marxism is predicated upon the idea of radical egalitarianism. Consequently, Marxists strive to utterly eliminate any sense of ethnic and national diversity, pride or celebration. The policy of eliminating a people's natural and inherent sense of distinct cultural identity is designed to deprive people of any identity-sourced empowerment to dissent against the totalitarian, atheistic government. It is precisely for this reason that we must hold on to our ethnic and cultural identity at all costs, expressing a healthy pride in who we are, and in the ethnic heritage that made us who we are. Marxists, both those who have already gained power and those who seek to force their way to power in non-Marxist societies, promote and force ethnic amalgamation at the direct expense of ethnic diversity, often in the very name of ethnic diversity. We must never allow any government to eliminate the rich and beautiful diversity of the many cultures, languages, ethnicities, races and unique peoples that make our world the fascinating and meaningful place it is.
Marxism enforces its own beliefs and forcefully prevents all free speech that departs from their own belief system. Marxism is based upon fanaticism, hatred, doctrinaire closed-mindedness, dogmatic slogans, and blind faith in unsound historical, social and economic theories. Those found dissenting against the Marxist system are taken from their families and put into re-education centers or Gulags for merciless and systematic brainwashing. Those who continue to dissent are often summarily executed, with the family expected to pay for the bullets. The nightmarish Marxist model of the state represents the very opposite model that is presented by Dharma.
Comparison of Marxism with Sanatana Dharma
(Please compare both lists side by side)
MARXISM:
Materialism.
Biological Determinism.
External environment creates human essence.
Nurture trumps Nature.
Atheism.
Radical egalitarianism.
Globalization.
Class, gender, race and social conflict.
Multiculturalism.
Ethnic disintegration.
Eradication of gender differences.
Destruction of Tradition.
Culture reflects the lowest common denominator.
"Socialist realist" art.
Destruction of the family structure.
Exploitation of Nature, and degradation of the environment.
Relativist ethics (the ends justify the means).
Lack of civil freedoms.
Personhood subsumed in the amorphous masses.
Democratic centralism.
Omnisexuality.
Abortion on demand.
All means of production controlled by the state.
DHARMA (NATURAL LAW):
Spirituality.
Vitalism.
Human beings create their external environment, which in turn can have an effect
upon the natural development of the person.
Will trumps both Nature and Nurture.
Theism.
Qualitative Hierarchy.
Tribalism/Nationalism.
Class, gender, and social harmony and cooperation.
Ethnic Plurality.
Ethnic integrity.
Celebration of gender distinctions.
Celebrating Tradition.
Culture reflects the highest ideals.
Aesthetics inspired by ideal forms, transcendent insight, eternal archetypes,
and inspiration from Nature.
Upholding the traditional family.
Preservation and reverence for Nature.
Firm non-relativist ethics.
Human values based upon transcendent truth.
Inherent freedom of the human person.
Human personality never subsumed in the amorphous masses.
Leadership principle.
Heterosexuality.
Respect for innocent life.
All means of production controlled by free and creative human persons and
families.
Marxist philosophy, and the Communist movement in general, is without doubt the most destructive ideology humanity has ever been subjected to. Marxism represents the exact antithesis of Natural Law, of religion, of positive culture, of any form of national ideal, and of healthy tradition. Marxism is the polar opposite of life itself. It is the embodiment of the final, quintessential stage of the 4000-year-old failed Abrahamic experiment.
Communism has been responsible for the death, murder, torture and pain of more human beings than any ideology in world history (with, arguably, the possible exception of Islam). In China, the former USSR, and the former Communist nations of Eastern Europe, it has led to environmental degradation that is unprecedented. Marxism is a culture-destroyer. Far from being "progressive" and leading societies toward greater advancement, Marxism has led the nations under its rule back to the dark ages. In each and every significant way, Marxism is the very exact opposite of everything that Dharma and Natural Law has ever stood for. This explains why for the last 150 years of history, communists have been one of Vedic civilization's very greatest enemies, and have tried to destroy us every chance they get. Marxism is the natural enemy of Dharma. Every follower of Sanatana Dharma must oppose Marxist materialism with every breath we have.
—————————————————-
This article is the most in-depth critical analysis of Marxism from a Vedic perspective ever written. It is taken from chapter 3 of the groundbreaking new book "The Dharma Manifesto", by Sri Dharma Pravartaka Acharya.  The book can be purchased at:
http://www.arktos.com/sri-dharma-pravartaka-acharya-the-dharma-manifesto.html
The Dharma Manifesto serves as the first ever, systematic revolutionary blueprint for the nascent global Vedic movement that will, in the very near future, arise to change the course of world history for the betterment of all living beings. The Dharma Manifesto signals the beginning of a wholly new era in humanity's eternal yearning for meaningful freedom and happiness.
—————————————————–
About the Author
Sri Dharma Pravartaka Acharya has been acknowledged by many Hindu leaders throughout the world to be one of the most revolutionary and visionary Vedic spiritual masters on the Earth today.
With a forty year history of intensely practicing the spiritual disciplines of Yoga, and with a Ph.D. in Religious Studies, Sri Acharyaji is one of the most eminently qualified authorities on Vedic philosophy, culture and spirituality.
He is the Director of the Center for the Study of Dharma and Civilization – the very first Hindu think tank in American history.
His most historically groundbreaking politico-philosophical work, "The Dharma Manifesto", is now offered to the world at a time when its people are most desperately crying out for fundamental change. Available here:
http://www.arktos.com/sri-dharma-pravartaka-acharya-the-dharma-manifesto.html
PLEASE SHARE THIS IMPORTANT ARTICLE
---
[1] Which was, on the face of it, merely another ego-driven manifestation of what I have termed the psychological defect of temporal-centrism – or, believing that the historical era in which one is presently living represents the apex of all human achievement.